History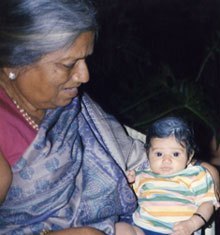 Founder
Late
Dr. Anandi Bai Prasad
16.04.1912 ~ 25.04.1993
Dr. (Mrs.) Anandi Bai Prasad was running a maternity home in 1970's. She found that many times some mothers abandoned their babies and left the nursing home without giving the correct address. Not knowing what else to do with them, she kept such abandoned babies in the hospital itself. Pretty soon a fairly large nursery emerged. As she was very much attached to these abandoned children, she decided to formalize this arrangement and started Bapuji Children's Home in 1975 in the premises of Prasad Nursing Home by forming Bapuji Childrens Home Trust.
In 1977 the Government of Karnataka State recognized this Voluntary Non-Profit Organization as a 'Fit Person Institution.' In 1979 the children were shifted to the newly built facility at the current location.
The main object of the Trust is to take care of orphan children and to send them for adoption or, as a last resort, bring them up in our institution in accordance with the philosophy and ideals of BAPU-ji, i.e. Mahatma Gandhi, by providing a homely atmosphere, education and vocational training; to help them earn a living and be good citizens of the society irrespective of caste or creed. Girls raised in the Institution leave this home as brides to bright young men who come forward to give a permanent family to them.
Another object is to give temporary shelter to children of destitute parents, till they are capable of looking after them on their own.
In 1995, the Trust saw that there were some destitute elderly who were spending their lives on the streets or temple premises. This second childhood was very cruel to such abandoned elderly. The Trust then decided to start an experimental small Old Age Home for women in the Children's Home premises and in 2001 shifted to the current larger Old Age Home - Bapuji Anand Ashram, in separate premises to take care of needy elderly.
In 2010, plight of poor patients from the society who need regular Hemodialysis two to three times a week, at the normal commercial cost, was brought to the attention of the Trust. Gaonkar Memorial Dialysis Center was thus established in the Anand Ashram premises and put into operation on 20th January 2011 to be run on Charitable, Non-profit basis for the benefit of the needy poor patients of the society.
In recognition of the work done by this Institution in the field of Child Welfare, the Government of India gave National Award in 1988 to Bapuji Children's Home and was received by Dr. Anandi Bai Prasad from President of India Sh. R. Venkataraman.